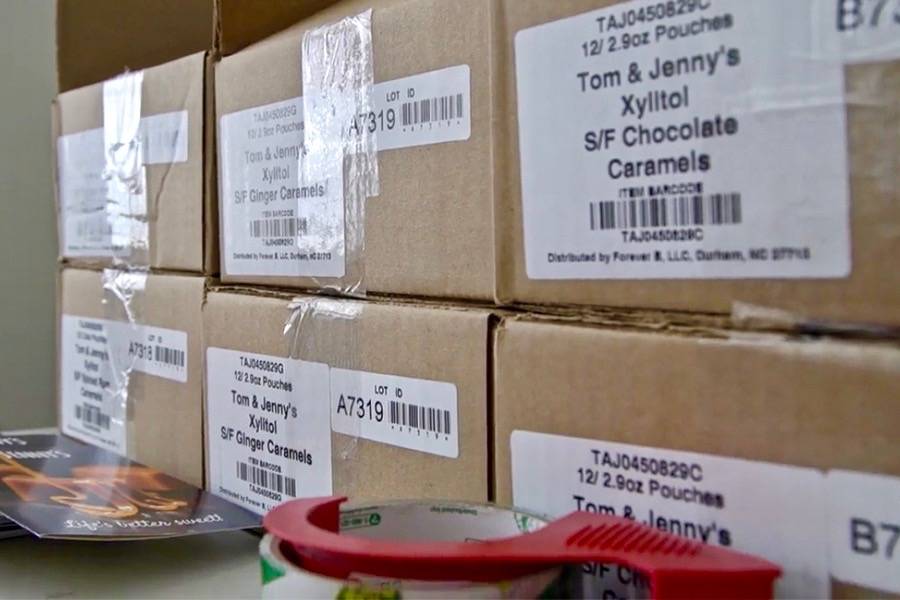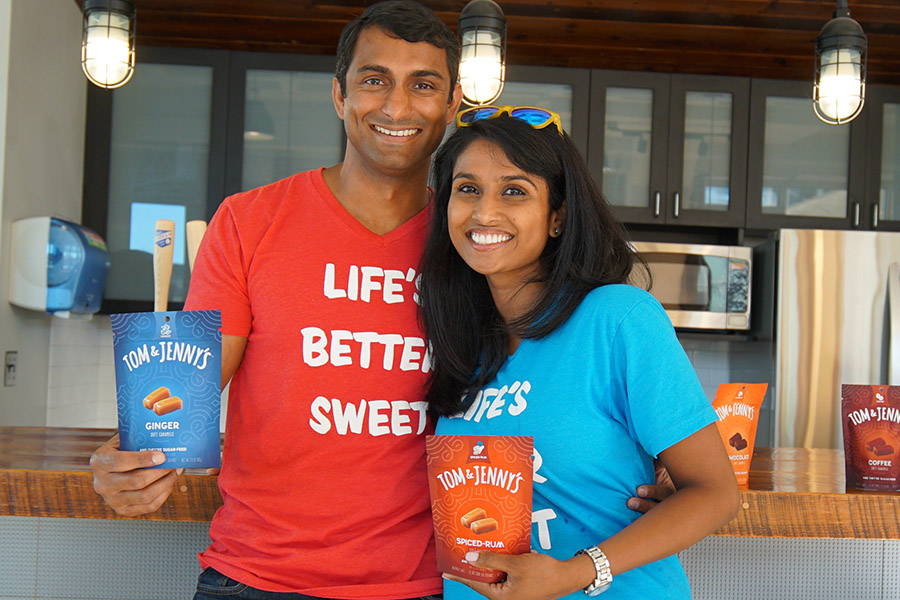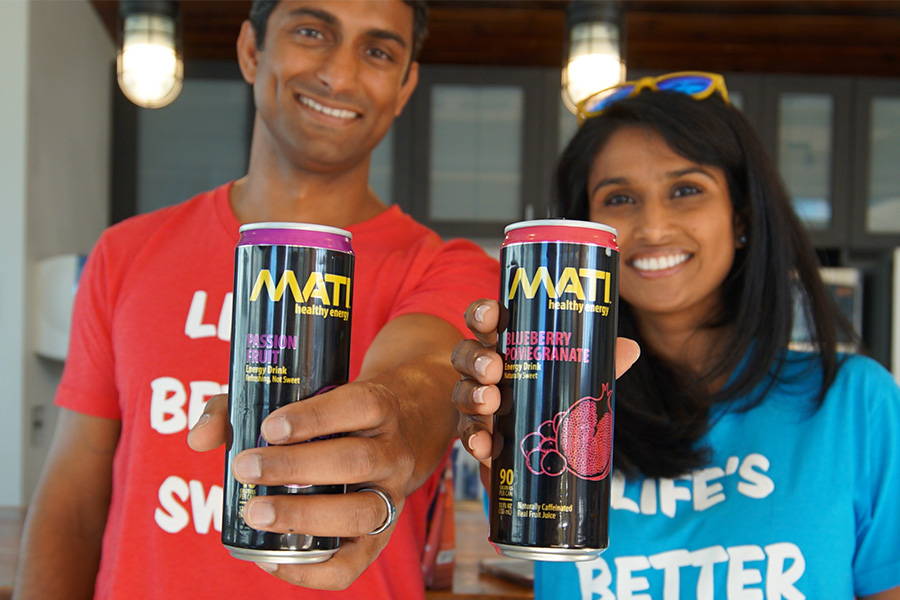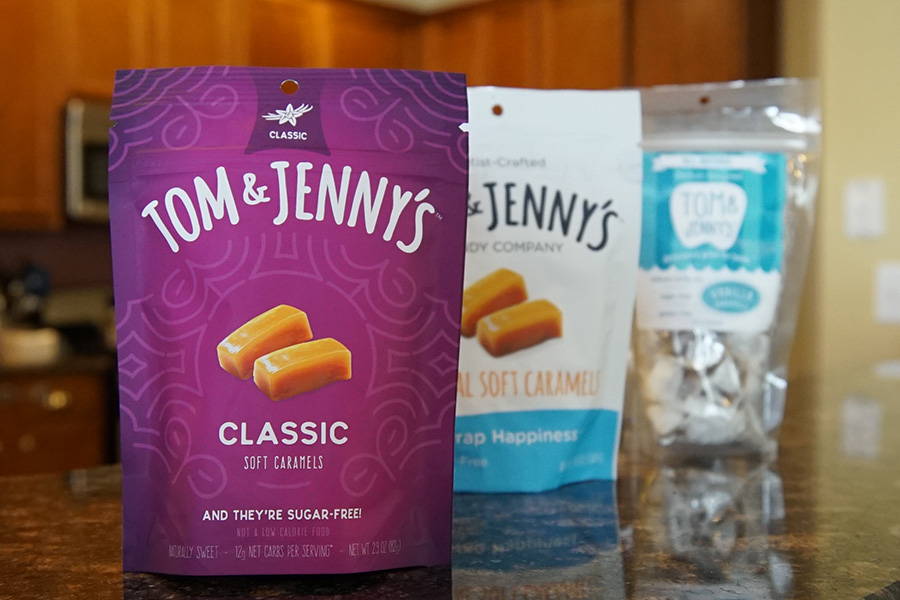 THE HUSTLE IS SWEET w/ Tom & Jenny's
Jenny's entrepreneurial spirit first attracted Tom while they were undergrads at the University of North Carolina at Chapel Hill. Jenny had just started her first venture, a social mission that later evolved into a national nonprofit organization called Nourish International. Tom quickly joined Jenny in her efforts and they both experienced their first taste of young entrepreneurship as business partners. Upon graduation, both Tom and Jenny went on to work for nonprofits before later pursuing graduate programs. Through networking, Jenny met a dentist who inspired her to head down the pediatric dentistry path. While Jenny pursued dental school, Tom entered an entrepreneurship program at Duke's Fuqua business school.
Throughout dental school, Jenny found herself preaching to patients and parents to "cut out the sugar" or to "switch to sugar-free options" to help prevent cavities. Passionate about helping her patients, she began to try sugar-free candies to understand why they could not resist. She quickly realized that the sugar-free options were less indulgent and not very palatable. This realization sparked the early stages of Tom & Jenny's candy.Jenny began experimenting and creating candies with raw ingredients in their home kitchen. Tom, working for a consulting firm during the week, spent his weekends taste-testing their kitchen creations. When a residency option opened, Tom and Jenny relocated to New York and continued to hustle. They consulted an organic chemist, reached out to prospective culinary partners, and continued to experiment and develop their recipes. After connecting with Michael Laiskonis, an award-winning chef, they perfected their recipes and had earned top industry approval. They had finally cultivated candies that were just as sweet and tasty as they were guilt-free. Instantly, their side hustle went from an uncertain possibility to a very attainable reality.
Their early college and professional experiences prepared them for the development phases of their side hustle. Understanding market research, fundraising, and business networking moved them steps ahead. They planned, researched, set their business goals, started conversations, grew external interest, and started to build the business network that would allow them to scale Tom & Jenny's. From leading focus groups to advertising tests to their first try at eCommerce, they gained valuable feedback that continuously moved their business in the right direction. They invited family to partake in the business opportunities, employed interns, found the right manufacturing fit and began to produce their candies. After a successful winter market run, they knew that they had built more than a side hustle, Tom & Jenny's was a profitable business.
As Jenny explains the Tom & Jenny's story, she credits her husband Tom with bringing their business to scale. He kindly requests that she gives more credit to "we". From college and grad school to entry-level careers to pursuing their side hustle, they have been a team. Tom and Jenny now reside in North Carolina with their children. Jenny continues her career as a pediatric dentist and owns a notable dental practice in Durham, North Carolina while Tom continues to hustle and grow Tom & Jenny's candy. Keep your eyes peeled, Tom and Jenny are taking over.

Takeaways
HAVE LOTS OF CONVERSATIONS.
It takes time to build your network. Foster strong relationships, establish trust, and take the time to find those who support your vision.
DEVELOP A THOUGHT-OUT PLAN.
A plan shows others your initiative and drive. Organize, plan, and adjust, and you'll find people who want to be a part of your hustle.

CAST A TALLER SHADOW THAN YOUR ACTUAL HEIGHT.
Always believe in yourself, your capabilities, and your hustle. When people notice your confidence, they will believe in you too.
BALANCE IS KEY.
You probably have life goals outside of your side ventures. Just remember, setbacks happen and you're not always going to get it right. Expect obstacles, anticipate change, and adjust your strategy accordingly. You've got this!
Follow Tom & Jenny's - here
Check out the Tom & Jenny's Website - here
Order Tom & Jenny's Candy - here
Produced by: Jacob Burt - Digital Marketing Manager
Written and Edited by: Sammi Meksvanh - Digital Content Specialist